City-to-city cooperation agreements see European local governments partner with the world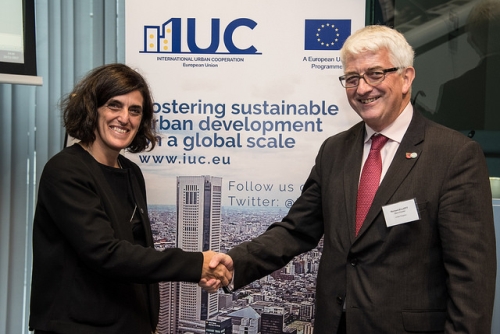 Cities and regions across Europe have entered into partnerships on sustainable development with local and regional governments from around the globe as part of the EU-funded International Urban Cooperation (IUC) Programme.
The IUC Programme is facilitating cooperation and exchange between cities and regions in EU Member States and counterparts across Asia, North America, and Latin America and the Caribbean, with the aim to foster sustainable urban development.
Over 30 pairings have already been agreed, with a second round of match-making due to take place in early 2018.
Partnerships achieved through the pairing programme include Frankfurt (Germany) and Yokahama (Japan); Bologna (Italy) and Austin, Texas (USA); Manchester (United Kingdom) and Montreal (Canada); and Almada (Portugal) and Belo Horizonte (Brazil).
A full list of the 31 city pairings, and 3 regional pairings, achieved to-date is available to view on the IUC website's City pairings page. In the coming weeks, further pairings will be announced between EU cities and cities in Colombia and India.
"Cooperation and networking across national boundaries help to increase the quality of urban development policy-making. Through the three-year International Urban Cooperation programme, the European Union seeks to foster such cooperation, promoting knowledge sharing and mutual learning opportunities between EU and non-EU cities. Through the spread of good ideas and effective solutions, sustainable development can be better realised across the globe," said Corina Crețu, EU Commissioner for Regional Policy.
The cities and regions were paired based on a defined list of criteria, which took into account shared interests and challenges faced. Through the programme, local leaders will be able to connect and gain new perspectives on pressing sustainable development issues.
Each participating local or regional government agrees to cooperate with their partner city or region for at least 18 months, jointly developing a Local Action Plan that sets out a series of measures to tackle a defined challenge.
The Local Action Plans follow a common methodology, inspired by the EU-funded URBACT programme experience, and will be developed through an inclusive multi-stakeholder process.
The Local Action Plans must include activities and economically viable pilot projects that are capable of being realised in the short to medium term, opening up market opportunities and encouraging the involvement of academia, businesses, other levels of government and the local community.
Measures and actions to be implemented will contribute to achieving the objectives of the UN's New Urban Agenda Sustainable Development Goals (SDGs), the Urban Agenda for the European Union, the Sendai Framework and the Paris Agreement, enhancing quality of life in urban areas.
The IUC programme is funded by the EU's Partnership Instrument.