European cities join with global partners at IUC City to City event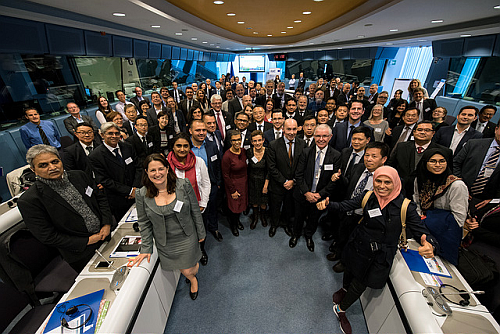 New partnerships between European cities and cities across the world were formally launched on Friday 10 November in Brussels (Belgium) under the European Union's International Urban Cooperation (IUC) programme. The one-day event saw more than 120 delegates both from the EU and from China, Asia, India, Japan and North and South America.
"One of the main aims of the IUC programme is to take direct action on a global scale to promote more sustainable patterns of urban development in economic, social and environmental terms. Connecting European cities and regions with their counterparts around the world, in order to share knowledge and learn from one another, can make an important contribution to achieving this end. It will help cities in the EU and around the world to improve policy and practice for the benefit of their citizens," said Ronald Hall, Principal Adviser on International Relations, DG REGIO.
The first stage of implementation of IUC took place earlier this year when cities from Asia, North America, India, and Latin America and the Caribbean were invited to take part in a pairing programme that would see them link up with a European city to work on sustainable development. The call for proposals received a positive response, with over 30 pairings matched so far.
Each participating local government agrees to cooperate with their partner city for at least 18 months, jointly developing a Local Action Plan that sets out a series of measures to tackle a defined challenge. A second round of pairings will be opened in 2018.

Speaking at the event, Nicola De Michelis, Head of Cabinet for Regional Policy Commissioner Corina Creţu, praised the mission of the IUC programme and commended local and regional governments for their determination to promote smart, sustainable and inclusive growth and to achieve ambitious climate targets.
The event saw presentations from paired cities Chongqing (China) and Mannheim (Germany), Montreal (Canada) and Manchester (United Kingdom), and Yokohama (Japan) and Frankfurt (Germany), providing an insight into the sustainable development actions that will be carried out in these cities through the IUC programme.
Representatives of Malaka (Malaysia), Belo Horizonte (Brazil), Bologna (Italy), and Ottawa (Canada), each a signatory to the Global Covenant of Mayors, took the podium to provide examples of inspiring local climate action. The Global Covenant of Mayors for Climate and Energy is also supported under the IUC programme, forming one of the programme's three components, along with that to promote region-to-region cooperation between the EU and Latin America on innovation for economic transformation.
The Global Covenant of Mayors for Climate & Energy formally brings together the Compact of Mayors and the EU Covenant of Mayors, the world's two primary initiatives of cities to assist cities and local governments in their transition to a low-carbon economy, and demonstrate their global impact. Led by European Commission Vice President, Maroš Šefčovič, and UN Secretary-General's Special Envoy for Cities and Climate Change, Michael R. Bloomberg, the coalition comprises more than 7,400 cities across 6 continents and 119 countries, representing over 684 million people or 9.31% of the global population.
The IUC programme is funded by the EU's Partnership Instrument.